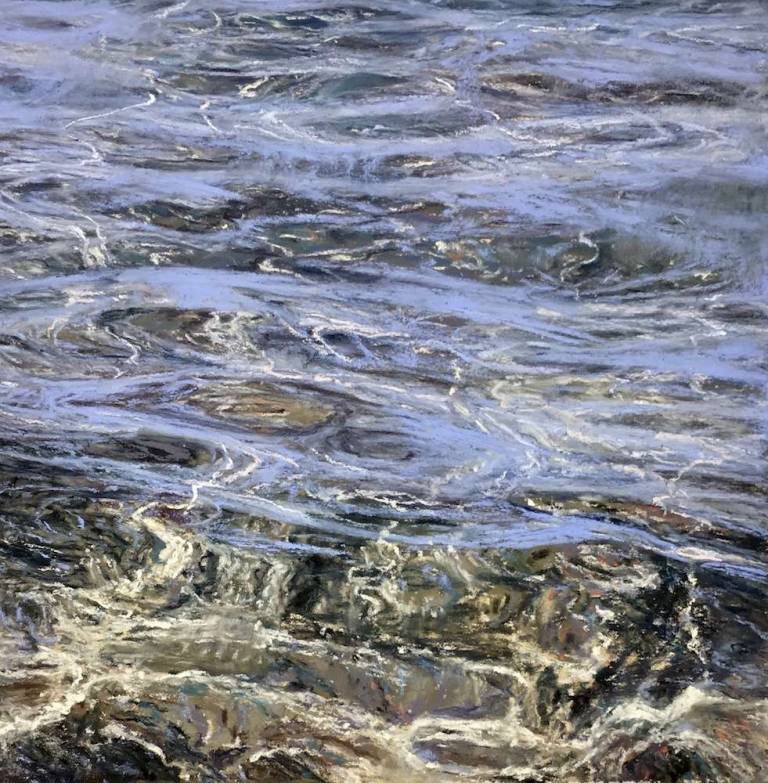 Elena Degenhardt is an award winning artist painting water and human condition, specialising in contemporary realism and working mainly in soft pastels but also in other dry media and acrylics. Based in Düsseldorf, Germany, Elena exhibits internationally. She is a Signature Member of the Pastel Society of America (PSA) and a Member of a few international art societies and groups: PoetsArtists (USA), The Pastel Guild of Europe, Malta Society of Arts, The pastel Society of Malta and the Association of Professional Artists of Austria (Berufsvereinigung der Bildenden Künstler Österreichs).
Elena's multicultural and multilingual experience has influenced her artistic choice of themes such as (lost and found) identities, displacement, memory and time.

Born in Russia in 1977 and grown up in East Siberia, Elena spent her early years in Germany and Latvia and immigrated to Germany in 2003. Graduated from Irkutsk Regional Youth Art School in Russia with a certificate of excellence, she went on to do two Master degrees in languages and literatures, and then to work as a teacher and translator in various European countries for 15 years. It was while living in England in 2014 that Elena joined a local art society and started exhibiting with them. Having won the society's Annual Exhibition Award, Elena took time out from teaching and spent a year attending art classes in soft pastels, acrylics and drawing at Norden Farm Centre for the Arts in Maidenhead, UK. She had her pastel classes with the British artist Jo Hall, SGFA. In 2015, Elena and her family moved to Vienna, Austria, where she continued finding her way back to art. Since 2017, Elena has been a full-time artist. After moving to Malta in 2017, she attended the portrait masterclass with British artist Gareth Reid and life drawing classes with Maltese artist and printmaker Jesmond Vassallo. In Summer 2019, Elena and her family moved back to Germany where she is currently living and working.

Elena Degenhardt has shown her work internationally, among others with the National Society of France at Salon des Beaux Arts 2019, Carousel du Louvre, Paris (2019), the Royal Society of Marine Artists (RSMA) at Mall Galleries, London, UK (2018, 2019), the Society of Graphic Fine Arts (SGFA) in The Centenary Exhibition at Menier Gallery, London, UK (2019); with the Association of Professional Artists of Austria in Vienna (2017, 2018, 2019); with the Malta Society of Arts in 'Perception' (2018) and 'Perception. Postscripts' (2019) as part of the multi-sensorial European art project AMuSE; with the Pastel Society of Malta (2017, 2018, 2019), with the International Association of Pastel Societies in the 34th juried Exhibition PastelWorld, Albuquerque, NM, USA, and the 35th juried Webshow (2019) and at the Southwest Academy of Fine and Applied Art (SWAc) Open Exhibition 2019, Exeter Castle, UK. Please visit 'Events' for current and upcoming exhibitions.

Elena's work has been published in the award-winning pastel blog by the Canadian artist Gail Sibley (2017), PoetsArtists Magazine (2019), USA, FASO Informed Collector (2018), USA, Artists & Illustrators Magazine, UK (2018) and Pratique des Arts, France (2019), Times of Malta (2018), Malta Independent (2018) and Maltese Herald (2019). Her paintings 'The Breath' and 'Overture' received the 'Outstanding Pastel' Award in the BoldBrush Painting Competitions in November 2018 and September 2019 respectively. She was a finalist in the UART 2019 Online Pastel Competition and Pastel Society of North Carolina International Online Show 2019.