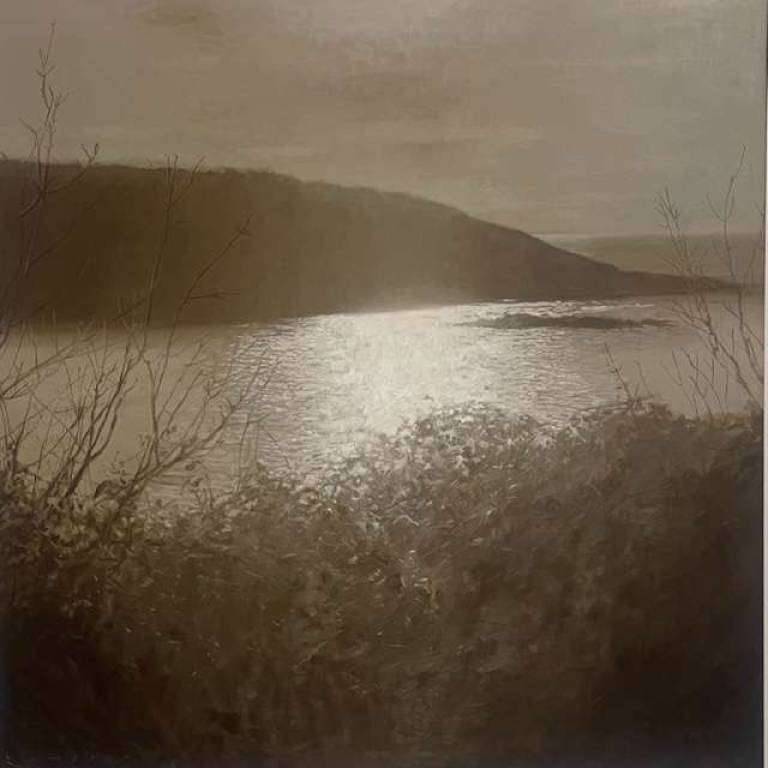 Greg Ramsden achieved a first class degree in Painting & Printmaking from Sheffield University under the tuition of the realist painter George Shaw, a Turner prize finalist in 2011.
Following Greg Ramsden's time in higher education he became an artist assistant to the international sculptor Heather Jansch. After which his painting career was jump started after winning the Lionel Aggett Award at the South West Academy of Art in 2009.

Since then Greg Ramsden's work has been displayed across the country and features in many private and corporate collections across the globe. Greg has been displaying in Salcombe for the past seven years. In that time his unique and exciting paintings have captured the life and light of the Salcombe landscape.

Greg Ramsden works in many mediums and techniques, ranging from monochrome acrylics to experimental oil paintings full of emotion and atmosphere. This method of thinking & painting demands of him an openness to experiment with paint and technique, the outcome of which can be seen in this diverse collection of work.

Greg Ramsden's work was been hung in the Royal West Academy in 2014 and 2015 & also in 2015 his painting was selected at the Royal Academy Summer Show in London. Greg's painting of 'Yeowards Boatyard' was selected for the 2017 Royal Society of Marine Artist exhibition at the Mall Galleries London. His work was selected from over 1500 entries.

In 2015, Greg Ramsden was elected a director of the South West Academy of Art.

Biography of Exhibitions
2022:
Solo show The 1780 House, Concord Massachusetts USA.
2021:
Royal Society of Marine Artist Mall Galleries, London.
Academician at the South West Academy of Fine Art
2020:
Royal Society of Marine Artist Mall Galleries, London
Tonic Gallery Salcombe Solo Show
2019:
Royal Society of Marine Artist Mall Galleries, London
D'art Gallery Dartmouth
Brownston Gallery
Thelma Herbert Gallery
South West Academy of Fine Art
2018:
Royal Society of Marine Artist Mall Galleries, London
London's Battersea Affordable Art Fairs
D'art Gallery Dartmouth
Brownston Gallery
Thelma Herbert Gallery
South West Academy of Fine Arts, Academicians show Delamore Arts
2017:
Royal Society of Marine Artist Mall Galleries, London
Royal West of England Academy 165th Open Exhibition
Penwith Gallery Show, St Ives
London's Battersea Affordable Art fairs
Bristol Affordable Art fair
South West Academy of Fine Arts, Academicians show Delamore Arts
Thelma Herbert Gallery, Honiton Academicians Winter Show
2016:
The Bristol Affordable art fair
The South West Academy of art 15th Open Exhibition
The Battersea Affordable Art Fair
Delamore Arts (SWAc Academicians Exhibition)
Thelma Herbert Gallery Honiton SWAc Academicians Show
2015:
The Royal West Academy 163rd Annual Open Exhibition
Wilton House, Collection of Lord Pembroke
The South West Academy of Art Open Exhibition
The Royal Albert Memorial Museum, SWA Academicians Show
The Bristol Affordable Art Fair
Short listed for the Royal Academy Summer Show
Elected to the Board of Trustee's for the South West Academy of Art
WhiteSpace Gallery Totnes "Light and Landscape" Spring Exhibition
WhiteSpace Gallery Totnes "Little Gems" Winter Exhibition
2014:
The Royal West Academy 162nd Annual Open Exhibition
The Affordable Art Fair Bristol
The South West Academy of Art Open Exhibition
The South West Academy of Art Academicians Show
WhiteSpace Gallery Totnes "Little Gems"
2013:
Artist in Residence at Coves Quay Gallery, Salcombe
2012:
Opened a year long Pop-up Gallery in Totnes, Devon
2011:
Became a Academician at the South West Academy of Arts
2009:
Won the Lionel Aggett Award at the SWA Open Exhibition