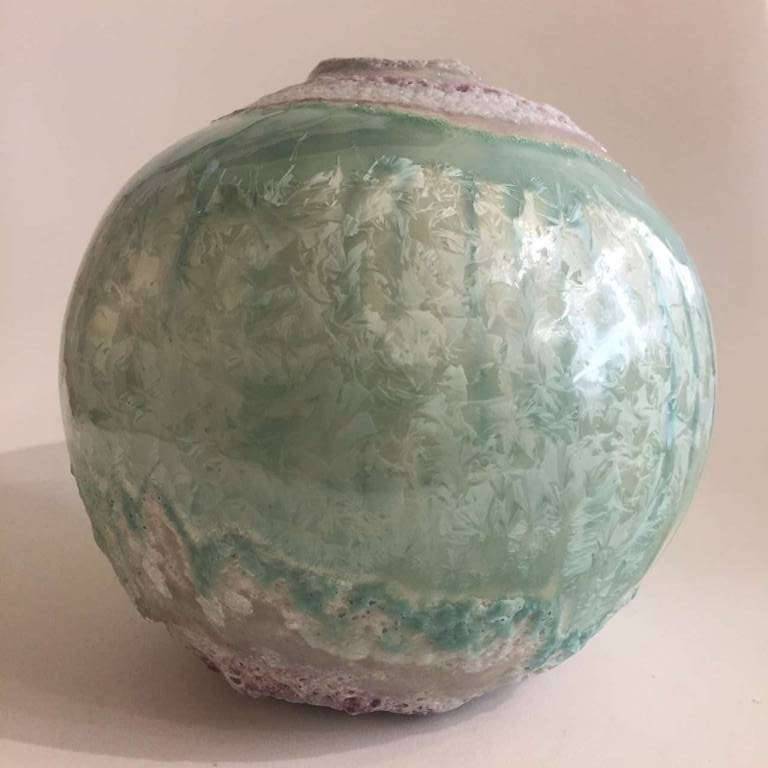 Hilary LaForce makes one-off ceramic pieces inspired by both natural objects and ancient classical vessels. Hilary works in stoneware and porcelain clays, with tactile, textural surfaces. The larger pieces are coil built whilst others are created using a combination of techniques, including slip casting and slab building. The forms include large bowls and vases, the bowls, up to 26 inches in diameter, a range of small tea bowls, as well as more organic forms, including the 'fragile landscape' series where the mark of the making is integral within the piece.
Hilary's pots explore the volatile mixture of crystalline glazes and eroded volcanic surfaces. Glazes are applied in multiple layers until both desired and unexpected effects are achieved. The palette of pearly white and soft grey glazes used is evocative of granite cliffs, rugged eroded seashores and swirling seas. As well as jewel like turquoise, rich blues and greens inspired by lagoons, as well as autumnal burnt ochre and tobacco.

Education and Experience

1976 – 78 Ipswich School of Art, Suffolk; Fine Arts Foundation Course.
1978 – 81 West Surrey College of Art & Design, Farnham B.A. (Hons.) Ceramics.
1982 – present Practising ceramic artist
2000 – present Pottery and sculpure teacher Hilary LaForce studio courses
1990/91/93 Demonstrator at Art in Action, Waterperry House, Oxon.
1993 Awarded West Midlands Arts visual Arts Bursary.
1988/90/92 Exhibited at Chelsea Craft Fair, London.

Selected Exhibitions:
2018 Summer Exhibition Amanda Aldous Fine Art, Hampshire
2018 Fresh Art Fair, Cheltenham (Little Buckland Gallery)
2018 Broadway Arts Festival biannual exhibition
2017 The Affordable Art Fair, London (Broadway Modern)
2017 The Manchester Art Fair (Art World Gallery)
2017 Edinburgh Art Fair (Art World Gallery)
2017 Summer & Autumn Exhibitions Amanda Aldous Fine Art
2017 'Chroma' & 'Glimmer' exhibitions Little Buckland Gallery
2016 Chelsea Art Fair, London (Art World Gallery)
2016 Solo exhibition The Albany Gallery, Cardiff
2015 Manchester & Edinburgh Art Fairs (Art World Gallery)
2013 & 2011 Solo exhibition The Albany Gallery, Cardiff
2013 The Affordable Art Fair, London (Broadway Modern)
2010 & 2011 Art in Clay, Hatfield
2006 -2012 Biannual Idlicote Art Exhibition, Warwickshire
2011 – 2015 The Art Barn, Preston Bagot, Warwickshire annual solo exhibition
2007/2008 The Campden Gallery, Gloucestershire.
1998/96/94/92 Solo Exhibition:The Orangery , Holland Park,London.